UPto75.com is great website to find
best hotel discounts.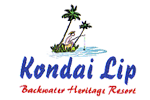 Kondai Lip
, the heritage resort at the north end of Alapuzha district and near to Cochin offers a lot of activities including nature treks, bird watching, visiting surrounding cottage industries and farms, and most excitingly, the night cruises in the backwaters of Kerala.
Get upto 15% Discount on room rent and special festive offer!
http://www.upto75.com/Kondai_Lip_-_Kerala/m/4689/Sale_Offer.html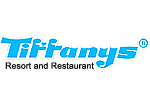 Located in Basavangudi, Bengaluru,
Tiffanys Resort
, one of the finest resorts with a stunning and spectacular view of a beautiful lake is endowed with twenty attractively designed well-appointed rooms and comes equipped with a spotless Swimming pool as well as a hygienic Children's pool. The rooms are stylishly furnished and give out a sense of calmness and serenity.
Tiffanys is offering 25% discount for all UPto75.com customers.
http://www.upto75.com/Tiffanys_Resort_and_Restaurant/m/4899/Sale_Offer.html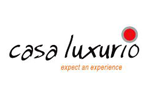 Casa Luxurio
, part of the Bagga Group, is a 3-star deluxe hotel that offers 5-star facilities. It has 101 luxurious and well-decorated rooms, meeting rooms, banquet facilities and restaurants serving exotic cuisines. It is strategically located in the most prominent section of Hyderabad, Banjara Hills. Easy access from the airport and close proximity to high-tech city are the major pluses of Casa Luxurio.
Save Rs.1400/- by paying just Rs.2500/- for booking a room worth Rs.3999/- per day
http://www.upto75.com/Casa_Luxurio/m/5092/Sale_Offer.html
Choice Hospitality India
has successfully made a mark in the mid-market segment for their luxurious and high-class franchised hotels, Comfort, Quality, Sleep and Clarion. Affordable, with impeccable service, Choice hospitality India is one group you can always count on for a great stay! Choice Hotels are ideal for business travelers with convenient locations all over India, comfortable rooms for family vacation, delicious complimentary breakfast buffet and affordable room rates. Up to 20% discount on published room tariffs at all the Choice Hotels in India.
http://www.upto75.com/Choice_Hotels/m/5289/Sale_Offer.html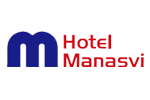 Hotel Manasvi
, situated in Hyderabad and in close proximity to the Secunderabad Railway Station and the old airport, is a 3-star business hotel offering the finest of luxuries, impeccable service and the most delicious cuisines. They provide an ambience that is stylish yet comfortable.
Get 25% discount on the room tariffs for a limited time.
http://www.upto75.com/Hotel_Manasvi/m/5174/Sale_Offer.html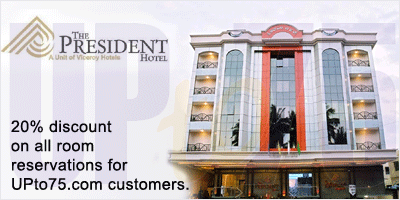 The President Hotel
, a unit of Viceroy Hotels, is one of the most contemporary hotels in Jayanagar, Bangalore offering fantastic rooms, great restaurants, outstanding service and an International experience. It is well placed near the best shopping malls in town and also near the big names in IT. The rooms at the President Hotel are comfortable yet luxurious. 20% discount on all room reservations for UPto75.com customers.
http://www.upto75.com/The_President_Hotel/m/4920/Sale_Offer.html