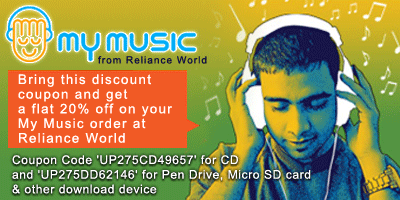 My Music from Reliance world
Flat 20% off on your My Music order!
Collect songs of your choice! You don't have to pay for songs that you don't like. Your collections will only contain your Greatest Hits of all time and you can keep adding to them.
Click here for My Music from Reliance World Exclusive Discount offer
for customers of UPto75.com.
My Music has made it very simple for you.
All you do is log on to http://mymusic.relianceworld.in, choose your favourite songs and place your order. You can pick up your music on a CD,or Pen Drive or SD Card on your mobile at the nearest Reliance World outlet.
It's that simple. Log on now and have a look at the collection of over 150000 songs and get 20% off on original starting price of Rs.5 per song!!